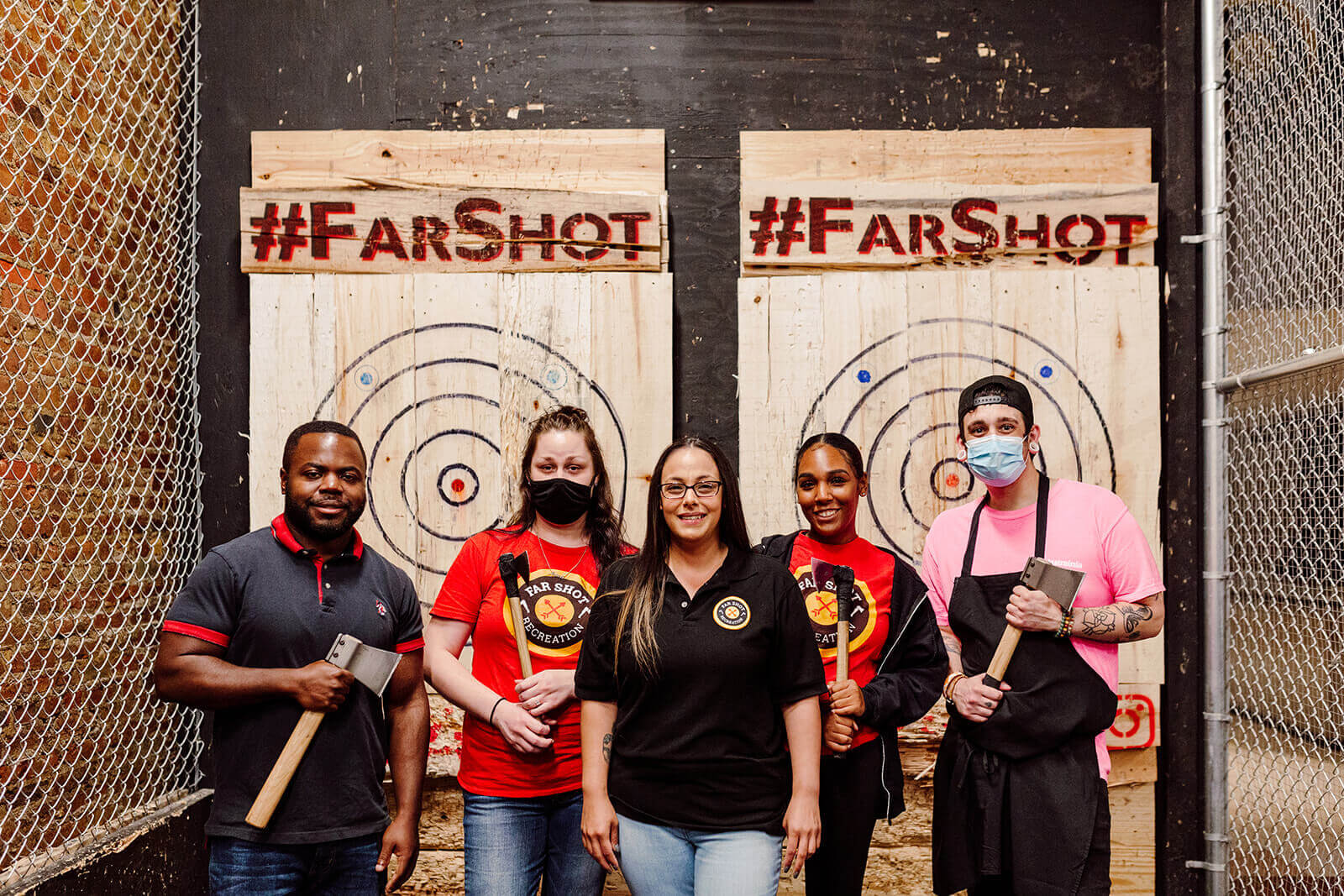 FAR SHOT CAREERS
We're always looking for coaches! And we're also always looking for talent. We want you to love what you do! Have fun, be respectful, and own it! We value honesty, integrity, and hard work – if you've got that, you've passed 80% of the interview.
Looking for a company you can grow with? Look here, most of our staff start as coaches and progress into leadership roles. As our company continuously grows on both sides of the border, we're always looking to promote good people. We're all about people and that starts with our staff. Flexibility is key for us, we want to be able to offer you the work-life balance you need. You set your schedule and we schedule you based on it.
Check out our openings below and submit your resume ASAP!
Activity Coach/Host (Brampton, ON)
We need sharp individuals who are looking for a challenge in a unique environment with an eye for coaching.
COMPENSATION: BASE + TIPS
RESPONSIBILITIES:
Consistently provide exceptional customer service
Must be able to use a drill and lift 10lbs
Positive attitude and energy
Maintains a clean working environment and ensures the presentation of the facility is consistent with standard
Is fully knowledgeable of products, games, and activities.
Learn and develop a coach's eye for our urban games: Axe and Knife Throwing
Be presentable, have fun, and help guests to have fun. Put on a good show and train others to do it too!
Prioritize safety as number 1. Ensures all staff and guests are safe by strictly adhering to safety protocols and practices.
REQUIRED SKILLS/EDUCATION:
Minimum 1-4 years of Retail / Restaurant/ Hospitality experience;
Strong interpersonal, organizational, and communication skills
Able to work independently as well as collaboratively
Able to do basic mental math.
Proficient computer skills
Must be able to work at least every other Saturday
PT/FT Bar/Store Manager (Brampton, ON)
Compensation: Base + TIPS
RESPONSIBILITIES:
Set up the Bar!
Create Drink Menu, and experiment with new varieties and innovative offerings.
Maintain, upkeep, clean equipment, and appliances for the bar
Order drinks and input receiving into square
Inventory all products and drinks. Report shrinkage
Clearly communicate with the Owner, if you have questions, ask! Do not hesitate to reach out for more instructions or clarifications.
Reports to the owner and assists where needed as directed by the owner
Ensure that all bookings, leagues, and games run smoothly in a safe and fun environment.
Execute marketing and advertising initiatives as directed.
Interview and hire employees as needed based on the direction of the Owner
Schedule employees, train, and discipline staff as needed.
Manage the inventory for wood, merchandise, and other equipment.
Consistently provide exceptional customer service and achieve individual quantifiable review goals.
Building/setting up and Maintaining targets/facility as needed.
Promote a positive working environment through effective and respectful communication among associates and executives
Manage and communicate clearly, effectively, and honestly with a team of coaches.
Positive attitude and energy
Problem-solving, handling unusual circumstances
Work the POS system and other reporting, financial, and web/booking systems.
Be able to multitask and thrive in a fast-paced environment.
Detail oriented and available to work a flexible schedule including nights and weekends.
Performs opening/closing duties as required
Maintains a clean working environment and ensures the presentation of the facility is consistent with standards
Ordering and receiving of supplies/merchandise, etc.
Operate handheld power tools as needed for repairs and maintenance
Is fully knowledgeable of products, games, and activities.
Learn and develop a coach's eye for our urban games: Archery, and Axe and Knife Throwing
Coach groups and ensure training and tournaments/games are played for guests.
Being involved in Social Media to promote the Far Shot Brand. (i.e. Making weekly posts)
Be presentable, have fun, and help guests to have fun. Put on a good show and train others to do it too!
Prioritize safety as number 1. Ensures all staff and guests are safe by strictly adhering to safety protocols and practices
REQUIRED SKILLS/EDUCATION:
Minimum 2-4 years of Bartending experience
Strong Leadership, interpersonal, organizational, and communication skills
Able to work independently as well as collaboratively
Able to use a drill
Able to do basic mental math.
Proficient computer skills
Must be able to work weekday evenings and Saturdays. We Are closed Sundays
Job Types: Full-time, Part-time
---
Far Shot Job Application
"*" indicates required fields